Your Instructor ///
Christopher Behnke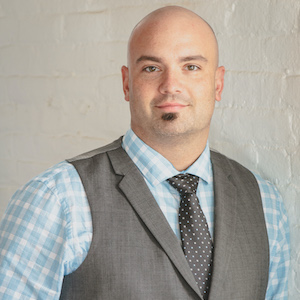 Meet Christopher Behnke:
As an experienced executive, entrepreneur, and expert in digital education, media and technology, Chris emits a contagiously powerful energy and enthusiasm that is evident as soon as you meet him in person. He has over 16 years of executive management experience with public, private, and non-profit companies including 10 years serving at comScore (SCOR) "formerly Rentrak"?where he led the design and development of every major new product from 2001 to 2011.
An extraordinary talent for business showed itself at a very early age when Chris co-founded Avalon Technology Group, a small technology company in Portland, Oregon, when he was just 19 years old.
Then, just two years after marrying his high school sweetheart, Alice, Chris helped develop a web-based "thin-client" technology that paved the way for venture funded startup, Hyperlinq Technologies, his second major business venture. In 2001, Chris began working at comScore (then Rentrak) where he helped develop and launch the successful theatrical measurement software suite, Box Office Essentials.
By late 2003, Chris and Alice had been blessed with two children and were craving a new challenge. So they moved to Tulsa, Oklahoma to help Cookson Hills Christian Ministries, a nonprofit K-12 school and children's home.
During their two-year sabbatical in Oklahoma, Chris was a powerful change agent for a significant evolution in their approach to fundraising and overall business operations.
After coming back to the Pacific Northwest in late 2005, while continuing to create and build new businesses, Chris returned to comScore, as the Vice President of Information Technology. Working hand in hand with key players from major movie, television studios and media brands. He led the successful launch of every major new product developed for the company including Ondemand, Stationview, Digital, Mobile, and National TV measurement services.
Chris and Alice now have four children. And if you live in their neighborhood, you'll see that this is one very on-the-go family! Chris is passionate about giving 100 percent to everything in life and purposefully casting contagious vision.
Chris plays an advisory role to multiple businesses in various stages of development, as well as serving on the board of companies including, M25 Ventures, Delta Ministries, and Kilns College.
Event eCourses / eCourses / Books / Podcasts by Christopher Behnke