How God told her to stop mind reading (taking physical cues instead of risking to fully enter in to a deep relationship).
How triggers created a spin through traumas and the difference between when the soul was leading or when the spirit was leading in those times.
How going back and reviewing her journal has affected her.

Our operating system.
Our source for information isn't people and the amazing books they've written, our best source of information should be one on one with Holy Spirit.
The Bible
Desire to learn about something amazing
Willingness to invest in yourself for 45mins. 
This is such a treasure as we get to hear from Christine Potter as she shares from her journal! Christine has such a gift of being real and honest that lead us into a deeper presence of God. The Father has blessed us with such a humble and free person in Christine. Her ability to bring truth in love and not be limited by what people think has made her such a delight. Let's listen in as she shares about the incredible things God reveled to her as she sat with her journal and pen.  
"My journal is my meeting place with God. I've entered into that flow and He can be really chatty at times.." 
– Christine Potter
Anyone can grow and be nourished in the love and wisdom Christine shares.
Students who are learning about the soul, spirit, and body and how they interact.
Families will benefit from the alignment of soul, spirit, and body as it impacts emotional, physical, and spiritual health.
Leaders will learn how these areas can impact themselves and the people they interact with.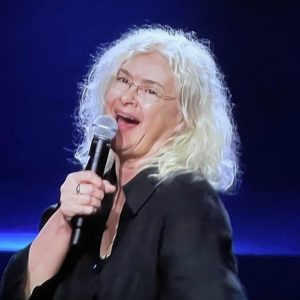 Christine Potter
Christine Potter is most recognized for her prophetic intercession with musician husband, Don Potter. She defines her prophetic intercession as a life surrendered; spirit, soul and body, allowing Holy Spirit to flow through her giving demonstration as He pleases. This intercession may manifest as actions of movement, song, or teaching in a style that is uniquely her own. These actions bring an atmosphere of liberty that makes space for others to unashamed-ably be more fully who He made them to be. 
About Instructor
Login
Accessing this course requires a login. Please enter your credentials below!