Every bone in your body was intentionally designed to be creative.
How to start unlocking the creativity you were designed with.
How to stretch yourself into limitless possibilities.
Practical application of  different art forms to explore your connection with Father God, people, and things around you.

How to engage practically with creativity on a daily basis.
You will need a peice of black paper or black canvas, white paper, one or two white canvases, pen, paper, white and or metallic colored pencils, and 2 or 3 paint colors. 
A willingness to discover creativity you may not have known you had.
Willingness to invest in yourself for about 3 hours. 
Kelley Salber is a fun creative artist that will help you unlock the creativity God specifically designed you with. Each of us is created in His image and He is HIGHLY creative. So every bone in our body was intentionally designed for creativity. Kelley has amazing activations that help even the most doubtful person discover the creativity God created them with. 
Her lessons are about 20 minutes long. Each lesson gives you 10 minutes to do the activation. You can take longer than ten minutes or less time. It is totally up to you. Each activation explores a different facet of who God is. 
Anyone interested in learning how to be creative.
Students who wish to dig deeper into their creative expression.
Church leaders who are interested in developing an artistic community.
Believers with questions about how art affects their lives on a daily basis.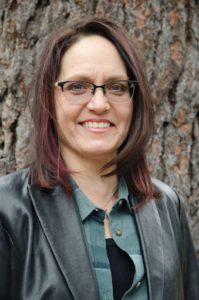 Kelley Salber
Kelley Salber was born and raised in Billings, Montana where her passion for texture, color and miniature things developed at an early age. She spent most of her life expressing herself through water color, collage and found object sculpture. Her propensity is toward 3-D so when she was introduced to the idea of the book as art, she found it fit her contemplative personality and her hands-on, "let's build it" approach. She has focused on book arts for over 12 years.
Kelley loves to experiment with the book as a sculptural form. Using her passion for texture and color, she imaginatively forms miniature worlds in a variety of forms. Kelley creates interesting new art forms by altering old books. Kelley also delights in inventing her own books as well as building with book board and paper. She has an unsurpassed eye for detail and narrative.  
Kelley holds a Bachelor of Science degree from Montana State University and is a self-taught artist with continuing education through classes and workshops; Kelley has received bookbinding and box building mentoring from Rachel Fox, A Nebraska artist. Married for over 30 years to Rich, her best friend and amazing support, Kelley lives in Bend, OR where she enjoys amazing views of the Cascade Mountains.   She has one grown fabulous daughter.
Her work can be found in the permanent collection of the Central Oregon Community College Library.

She is the director of a creative arts community called Love Creates at EagleMountain

Kelley served on the governing board of the Sisters Arts Association for 4 years. 

She also teaches the art of bookmaking regionally and has taught for 2 years at the Newport Paper and Books Arts Festival in Newport, OR.
Exhibits include Illahe gallery, Ashland, OR, The Tiny Art Show-tbd loft, Bend, OR ; Valley Art Gallery, Forest Grove, OR; Sisters Library, Sisters, OR; and the Bend Art Center, Bend, OR . Newport Visual Arts Center Runyan Gallery and Hood Avenue Art, Sisters, OR
Moth (My Own Two Hands, Sisters, OR) Theme award 2017
About Instructor

Login
Accessing this session requires a login. Please enter your credentials below!