Culture of Heaven – Unpunishable
After Adam blame shifts and creates a chasm between him and God. Then Jesus came and stood in the gap and consumes all the punishment for sin. If Jesus satisfied God's wrath for all time, then what sin is left that still needs to be punished?
Culture of Heaven

Session 3

Unpunishable:

Adam steps outside the relationship with God and creates a chasm. Adam, instead of owning it blame shifts and there is distance between man and God. But, there is a book that tells a story about a man that comes to earth and gives His life to heal the distance between God and man. Have you ever read that book?

I'm really good about telling you about you, but I'm only an expert about me.

1 John 2:2 (NASB)
2 and He Himself is the propitiation for our sins; and not for ours only, but also for those of the whole world

Jesus stands in that gap and consumes all of the punishment for sin. If Jesus satisfied the wrath of God for all time, then what sin is left over that still needs to be punished?

Who am I to now punish your sin?

We need to operate in the reality that God's anger and wrath has been completely satisfied. Sometimes we like to believe that there are still some sins that need to be punished, it makes us feel powerful and justified.
Have you ever watched: https://www.youtube.com/watch?v=RzToNo7A-94

Sometimes people just need to know that someone is in charge....LOL
---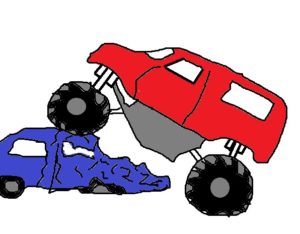 Remember the BIG red truck? Sometimes when we get scared, we throw out threatening statements hoping that the person will believe my statements. That's the only way this works if people believe my threatening statements. That's what gives me the power to punish.

Jesus told His Sons of Thunder: "You do not know what Spirit you are of if you think that you can punish people into submission..."



1 John 4:18 (NASB)
18 There is no fear in love; but perfect love casts out fear, because fear involves punishment, and the one who fears is not perfected in love.

If God is still mad and can't wait to punish the earth because of their sin, then why did Jesus  come. Are there two batches of sin, one before the cross and one after or did Jesus fully satisfy  the punishment for all sin.


Remember when Jesus said to the woman caught in adultery... "Where are your punishers..."? He wasn't condoning sin. Some people would have thought by the way He handled the situation that He released the spirit of adultery all over the region. But there was something broken in her that caused her to get that need met. That broken spot needs to be healed, not punishment. That woman adjusted her life because she experienced His love, honor, and protection. That is what people of true authority do when it comes to dealing with people with broken lives.

Life under the law requires us to live protecting our relationship with the law (rules).
Life in the Spirit requires us to learn to live free, protecting our relationship with the Spirit


The law of love has set us free from the notion that "when you sin, you need to be punished".

Some think that "my ability to follow the rules is what gives me the greatest character..." If that were true then people in prison should have the most character.

Romans 8:2 (NASB)

2 For the law of the Spirit of life [a]in Christ Jesus has set you free from the law of sin and of death."For the law of the Spirit of life in Christ has set you free from the law of sin and death".

Your character is revealed when you are offered total freedom.

God is not afraid of our poor choices, actually He's not afraid of anything. That's what makes him like no one you've ever met.

He didn't die so he could control you.
When God disciplines a person or a region, like in the New Testament when Jesus said in
Matthew 11:21 (NASB)
21 "Woe to you, Chorazin! Woe to you, Bethsaida! For if the miracles had occurred in Tyre and Sidon which occurred in you, they would have repented long ago in sackcloth and ashes.

He is not judging them for their level of dark, but for the light that they rejected.

When Jesus said "if you love me you will obey my commandment", he wasn't introducing a New Old Testament. He was saying that if you love me it's going to show up in your decisions and in how you use your freedom to protect our relationship.

Love means that we will make decisions that protect our relationships.

This takes skill and effort

Sin is offensive but being offended is neither a spiritual gift nor a fruit of the Spirit. Being easily offended at someone's sin or weakness is not the mark of spiritual maturity.

Here at Eagle Mountain we are not anti rules. Rules are just not the basis of our relationships. We believe in raising healthy people who raise healthy people who build their lives on a  freedom that manifests in the way we love and in the way we show up.

Environments where rules are most important are:
DMV
IRS

The church should never be confused with the DMV and the IRS. There is no love required at the DMV or IRS. But you have probably never heard of a Church that won't allow membership if you don't know how to love. Love happens to be the most important thing that characterizes the Church. Discipling people to love well and live the Culture of Heaven everyday is crucial.

Something changes when LOVE is a requirement, and when relationships are the priority. It actually releases the power of repentance and vulnerability.

You won't find a form for repentance at the DMV that satisfies broken rules. Only punishment can satisfy broken rules in a "Rules Centered" environment and punishment has no place in a culture of LOVE. When it's time to have hard and honest conversation with people, this means that our motive is a deeper relationship not punishment. True repentance can only be released in a Culture of Heaven. There is something about healthy love that opens the door for honesty which allows the Holy Spirit to change lives because people have decided that they value relationships enough to make good decisions and honor each other. This describes our priority as a Tribe. Relationships take work, but they are at the center of the Culture of Heaven.