The difference between praise and worship.

Deep revelation from the word or God.

Practical application of the scripture to your gift.

Many ways this will change your life and the ways you minister.
Man is created to worship and will then find something to fill that place.

A foundation for understanding the call to worship on our lives as believers.

Discover, or discover anew, our desire to participate in the ministry of praise and worship.
The Bible
A journal
Desire to learn about something amazing
Willingness to invest in yourself for 1 hour per lesson. 
This tremendous eCourse will be a great foundational teaching for any worshipper, worship team, and the church. Ray Hughes has spent a significant amount of time researching through the scripture on the topic of worship. He has a beautiful way of articulating each reason to praise and worship the Lord! Rediscover the reasons you were created and awaken new desires and an understanding of your destiny. Ray has a deep understanding of worship leaders, chief musicians, the church, and how to work together with honor.
It's our goal through this course to give you a very powerful understanding as well as simple and practical tools to develop your praise and worship with the Lord into a place of purity and intimacy. Our lives should reflect the glory of God and worship is an important part of this process.
Topics Covered:
How do we steward the gifting's we have?

How do we help lead the congregation to a place of revelation?

How we prepare the church for change.

Why identity is important.

Dream out loud.

Survey the land before you move.
Anyone interested in studying the Father's heart behind praise and worship.
Students who wish to dig deeper into what praise really is.
Church leaders who oversee worship and praise and the joys and challenges of worship ministry.
Bible teachers wondering how to explain praise and worship.
Believers with questions about how praise and worship affects their lives on a daily basis.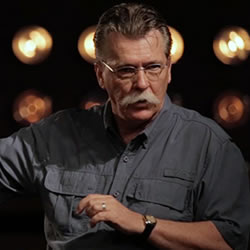 Ray Hughes
Ray Hughes lives within earshot of the Singing River near Muscle Shoals, Alabama. He has traveled the world for over 50 years as an author, storyteller, songwriter, and poet. He is a sought after public speaker and is passionate about creativity and training creative people. He is also passionate about biscuits, old guitars, and looking gift horses in the mouth (but not necessarily in that order). 
About Instructor

Login
Accessing this session requires a login. Please enter your credentials below!