[gap height="60px"]
[row width="custom" custom_width="800px"]
[col span__sm="12″]
RESTORE: Media / Arts & Entertainment Digital Event is JUST around the corner!
First things first, please take a few min and watch this VERY important video!
Did you watch the video? NO? What are you wanting for! Please take a moment and watch the entire video to the end to make sure you don't miss a thing!
Now that you have registered and paid for the event, the next step is to "register" for the platform, (Hopin). Think of the Hopin like the "hotel" at an in person summit. So next step, sign up and register (free) on Hopin, this is the platform where you'll be attending "digitally".
You can do that here: https://hopin.com/events/restore-media-arts-entertainment?code=LsvDkGYwpPPqproqo5ipqVhGG
You should see an option called "Already Registered (Digital Access Pass)" (screen shot below)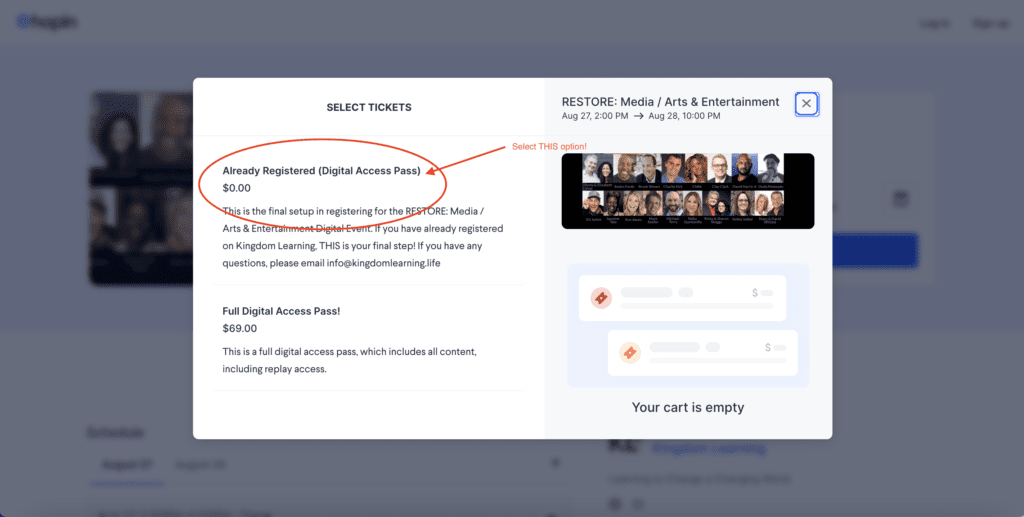 Click Checkout, then fill out the form, and hit submit! After that you'll be good to go! 
If you have ANY questions, please don't hesitate to reach out here: https://www.kingdomlearning.life/contact-us/ and our team will be happy to help you! 
IMPORTANT! Do you know what you'll need to do to prepare for the event? The good news it's VERY easy! First of all there is no special software to install, all that's required to participate is a modern web browser like Google Chrome. We would also encourage you to have a webcam and speaker as well for networking and some of the other interactive opportunities, but it's not required. Second, follow the "Hopin.com Registration" steps in this EMAIL! Thats it!
REMINDER! The day of the Summit there will be an opportunity to log into the system and "test" everything to make sure it's all working for you! (That's called the digital checking, it will be between 2:00 – 4:00 pm PDT on Friday!
Ok, so to recap:
STEP 1 – Watch the video above
STEP 2 – Follow this link and this link alone to "register" for Hopin.com, the FREE access "platform / hotel" where we will all be attending the event! (if you have already created a hopin.com account from another event you'll need to log into that account to complete the registration)
STEP 3 – Share this amazing event with your friends and family on social media!

 
STEP 4 – Make sure you have a modern updated browser installed like Google Chrome (our recommendation)
STEP 5 – Log in between 2:00pm PDT and 4:00pm PDT to TEST your computer and make sure everything works well!

 
STEP 6 – EVENT goes live at 4:00PM PDT FRIDAY we'll see you there!
Last, we would LOVE you help to promote this incredible event! Could you please do us a huge favor and share this link and copy to your social media? If not it's totally cool, but we thought we'd just ask! 😉
Post: 
I'm so excited to be attending RESTORE Media Arts & Entertainment 2021! You should join me! We're going to be hearing form incredible speakers! You can register here: https://www.kingdomlearning.life/shop/restore-media-arts-and-entertainment/
As always if you have ANY questions don't hesitate to reach out! 
The RESTORE summit team!
[/col]
[/row]